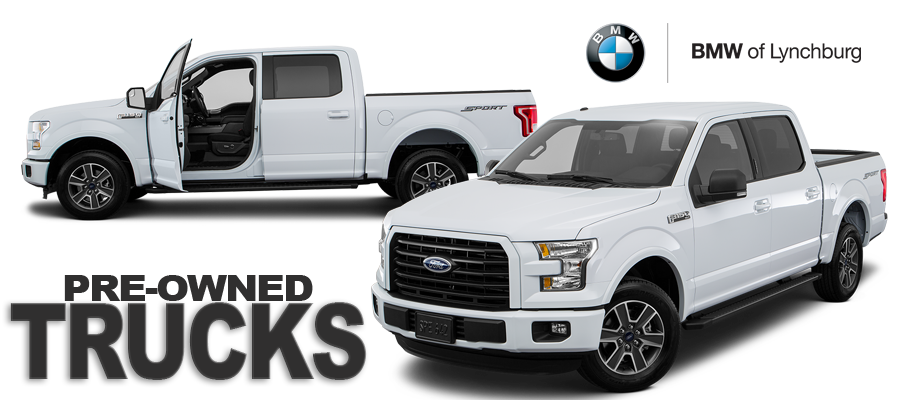 Used Trucks for Sale near Bedford, VA
We know what you are thinking, "Used trucks from a BMW dealership?" That's right. Used trucks for sale at a Virginia BMW dealership. And not just a few. We're talking hundreds of used trucks available at our Lynchburg BMW dealership.
You can shop all the big name brand trucks on our website: Chevy, Ford, RAM, Nissan, GMC and Toyota. You'll also find a wide variety of body styles and configurations available including 2-door, 4-door, Regular Cab, Crew Cab, CrewMax, Double Cab, and more.
Impressed? We thought you might be!
Something you'll find even more impressive are the low prices you'll discover on all our pre-owned truck models at BMW of Lynchburg. We use market monitoring software to ensure that our used truck prices in Virginia are competitive. That means no matter what kind of truck you choose, a pre-owned Ford F-150, Chevy Silverado, or Dodge RAM, if you buy it from us - you're going to get a great deal.
Check out all of our used truck inventory online and then come see us at our dealership located at 2643 Lakeside Dr Lynchburg, VA 24501.
Special Offers on Pre-Owned Trucks in Virginia
It's a fact: we offer ultra-low used truck prices on a daily basis. What you might not be aware of, however, is that we also have special markdowns available on select pre-owned vehicles including trucks.
Here's the deal:
Every month, our used inventory managers identify certain used truck models that need to be sold immediately. In order to expedite the sales process, these units are marked down by hundreds and sometimes thousands of dollars. These pre-owned trucks always sell fast due to their aggressive low prices.
Bottom line: if you happen to be in the market for a quality used truck and see one on special at our dealership - don't wait. Contact us in order to lock in the savings before the unit is sold at BMW of Lynchburg.
Why Buy a Used Truck at BMW of Lynchburg?
In addition to our surprisingly large selection of used trucks at low prices, you'll also want to consider buying from us due to our ultra-low interest rates. Many consumers think that the great interest rates are only reserved for new vehicle buyers. That's definitely not the case at our Lynchburg, VA BMW dealership.
We can get you into a pre-owned Toyota Tundra or Nissan Titan with a finance plan that will save you big money in interest charges every month. When you factor those savings on top of our already deeply discounted prices, you've got the perfect source for your pre-owned truck shopping and purchasing needs.
Check out all our inventory online and then come see our big selection of pre-owned trucks in person at our dealership in Lynchburg, VA.